When I was in grade school, I LOVED having penpals. I had one who was from Isreal and I looked forward to seeing her cute envelopes and the airmail stamps. I'm not sure if it stemmed from living in small town and being at wonder about the rest of the world, but I thought it was facinating. Along with this love of penpals, I also developed a love of snail mail. It still exists. When I first heard the song "Mr. Postman" by the Marvelletes I listened to it constantly (I also had a love for oldies music at a young age). It was like it was written for me. 
Anyways, why am I telling you this? When I saw on my blog friend Sandy from Sandy A La Mode announce that she and her friend Illy were going to be doing a gift exchange called Cold Hands, Warm Hearts, I quickly signed up since I saw it as an opportunity to get a package in the mail! And from a fellow blogger who is into crafy stuff and glove! Double greatness.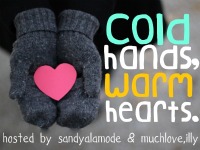 My swap partner Mariel has a great blog that I've been following recently. Reading it reminds me of all the things I am thankful for. Through this process of getting to know her via blog, I found that something we sadly have in common is that we both lost beloved grandparents this year. It's odd the places where you'll find commonalities and people who warm your heart.
I'm thankful to have been paired with Mariel. Not only is Mariel a designer, but she also has Ayumi intuition… HOW did she know that possibly one of the only other things I love more than snail mail is MY NAME on something! She made me my own notecards! Growing up with a name like "Ayumi" you don't exactly find keychains or mugs with your name already on it. Check out her etsy shop  if you're as excited about personalized goodies as I am. Mariel also had Ayumi intuition when she sent me a Starbucks giftcard which will definitely come in handy!
Add on: If you're curious what I sent, see Mariel's post here.
Dear Mariel,
Honestly, I'm not sure if it's because I've become a huge cry baby since I've had my own babies, or if it's because I know we both lost a grandparent this year, or if it was simply the amount of thought and pieces of yourself that you put into this package, but I got teary when I was going through its contents last night. I feel so thankful and touched that we could meet and connect. I hope we can meet up in person sometime in the nearer rather than later future!
Your new friend,
Ayumi
The package. Mariel lined the inside with giftwrap which I thought was a great idea that I will definitely utilize this season!
The perfect gloves for a photographer!!
A bag & earings made w/ love & style! This fabric is so great!
My new notecards!!! LOVE LOVE LOVE them!